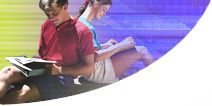 Business Faculty

Life experiences can radically change how we perceive ourselves and our lives; they can also enrich them. When teachers share their experience and bring skills to others, this enrichment becomes magnified.
Cheryl Sanchez, Business instructor & Small Business Development Center Counselor
Cheryl Sanchez is a Business instructor and Small Business Development Center Counselor at Lamar Community College. Student-centered and positively charged, Sanchez adds an element of "real world" to the college's business curriculum. Sanchez uses real world examples in her teaching and relies heavily on case studies and creativity activities for reality. Herself, a non-traditional student, she gives students of all ages motivation to complete college. "I feel I've been led to this position to inspire others to reach for their dreams," explained Sanchez.

A lifelong resident of southeast Colorado, Sanchez grew up in Two Buttes and graduated from Springfield High School. She owned the Bar-4 Corral Restaurant (Springfield) for eighteen years before branching into food service sales, then to Lamar Community College's Small Business Development Center. Ms. Sanchez is currently full-time business instructor at Lamar Community College teaching a variety of courses in marketing, management, career exploration and fundamentals of business. Ms. Sanchez is an alum of Lamar Community College. She holds her Bachelor of Science in Business Management from University of Phoenix and a Master of Arts in Organization Management from University of Phoenix.

Sanchez is currently on the Lamar Chamber of Commerce Board serving as President for 2004. She serves on many internal College committees, including Academic Advisory, Peer Review, Enrollment, and LCC Recruitment Team. Additionally, she was selected to represent LCC at the Colorado Network of Women Leaders' 2002 Academic Management Institute and was named Lamar Community College's Faculty of the Year for the 2002-03 academic year.
cheryl.sanchez@lamarcc.edu
719.336.1585 (office)