Life experiences can radically change how we perceive ourselves and our lives; they can also enrich them. When teachers share their experience and bring skills to others, this enrichment becomes magnified. Lamar Community College Horse Training & Management students receive the benefit of learning from industry leaders.
J.J. Rydberg - HTM Program Manager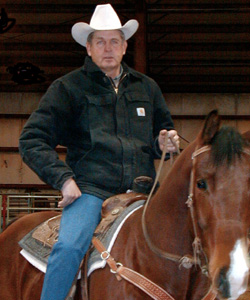 J.J. Rydberg joined the Lamar Community College faculty as a Horse Training & Management Instructor in August of 2000. Prior to his employment at LCC, he spent most of his professional life training horses and competing in professional rodeo. After graduating with a bachelor's degree from Adams State College (Alamosa, CO) in Physical Education, J.J. spent fifteen years in the professional rodeo circuit as a calf roper. For most of those years, J.J. was ranked in the Top 20 in the world, winning many prestigious rodeos along the way. Rydberg started his own business training horses and teaching roping students in 1984. In the ensuing years, he trained and showed two American Quarter Horse Association (AQHA) Calf-Roping Event World Champion horses and was, himself, a judge at cuttings. In addition to roping horses, he trained cutting and barrel racing champions as well. One was a finalist for AQHA World Show Jr. Cutting champion and won the Western States Cutting Challenge. J.J. has also shown Futurity and halter horses successfully.

As a second-generation professional trainer, he knows what he teaches from a practical and theoretical standpoint. A gifted teacher, he has been instrumental in restructuring the HTM program to include two Associates of Applied Science majors in Training and Horsemanship & Management and several certificates of study.
jj.rydberg@lamarcc.edu
719.336.1623 (office)
719.336.4469 (barn)
Jill Chase - HTM Instructor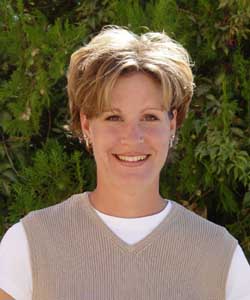 Jill Chase is the Horse Training & Management program's newest instructor. She recently relocated from Norfolk, Nebraska where she was an adjunct equine instructor for Northeast Community College for three years. Chase has been involved in the horse business since the age of nine. Her experience includes working with several reputable trainers. She holds a Bachelor of Science in Equine Science from Colorado State University. Chase will teach Horse Production, Equine Reproduction, Equine Management, and Equine Evaluation courses for LCC.

While growing up, her primary focus was in dressage, and it later shifted to showing in AQHA. While attending CSU, Jill competed in IHSA and on the Colorado State horse judging team. As a competitor, she earned several top awards, including a world championship.

She has spent much of her adult life educating youth, where she feels she has been most successful. As a 4-H project leader, she has coached several successful 4-H and FFA state and national champions. Chase has also coached State 4H Champions in horsemanship and showmanship in addition to coaching multiple top ten State winners.

She resides in Wiley, Colorado, with her husband, Shannon, and daughter, Lian, where they raise and show hunt seat Quarter Horses.
jill.chase@lamarcc.edu
719.336.1623
Shannon O'Bryan - Rodeo Coach/Barn Manager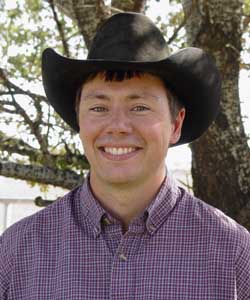 Shannon O'Bryan is entering his third year as head rodeo coach at LCC. This year, O'Bryan will add to his responsibilities by becoming LCC's barn manager. For the past three years, he was directly involved in the HTM program by teaching courses in Equine Evaluation, Horse Production, and Equine Management, and assisting in Basic Care & Training courses. Now, in addition to his coaching and recruiting responsibilities for rodeo, he maintains the HTM facilities including its indoor and outdoor arenas, stall barns, and outdoor riding trails.

Originally from Bagley, Minnesota, O'Bryan came to LCC on a rodeo scholarship and to attend its Horse Training & Management program. O'Bryan provides LCC students with proven experience and success in rodeo. In high school, he was the 1991 and 1993 Minnesota High School Rodeo Association Team Roping Champion. Currently, he completes in team ropings across the United States. He is a #4 Header in United States Team Roping Championships and was the 2001 Colorado Championships winner in the #6 Division.

After graduating from LCC in 1995, he completed his Bachelor of Science degree in Agri-Business with a minor in Animal Science at Oklahoma Panhandle State University (OPSU). He was on a rodeo scholarship at OPSU as well, making the OPSU Dean's List two semesters and graduating at the top of his Agri-Business class.

O'Bryan also has a small cattle operation and horse training business and resides west of Lamar with his wife, Dawni and their children, Bianca and Braxton.
shannon.o'bryan@lamarcc.edu
719.336.1594
Brad Malone - HTM Instructor, Ag/Business Management Program Manager/Instructor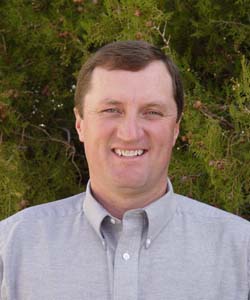 As an Ag producer, Brad Malone knows how rewarding and frequently demanding Ag production can be. His experience in working as a lender has given him an equally unique perspective. He brings both these angles to the Ag/Business Management courses he instructs. Different than most traditional college courses, the ABM program includes the element of consulting directly with Ag business owners and operators with classroom instruction.

Malone finds it satisfying to assist individuals in adopting new and successful ideas and techniques in their personal agricultural businesses. The challenge is to help producers look beyond their current circumstances and a natural resistance to change in the midst of difficult economic times.

Formerly a loan officer at the First National Bank of Las Animas for six years, Malone assists individuals to sharpen their business skills and plan for their futures. Malone is currently working toward a Masters Degree in Agriculture from Colorado State University. He holds a Bachelor of Science in Business Administration with a Finance emphasis from Adams State College.

A native to the Wiley area, Malone grew up on an irrigated farm and understands the passion for farming and ranching. He continues to keep his hand in agriculture by living and working on his wife's family farm and ranch and running cattle of his own. He is married to Stephanie (Smartt) and they have one son, Quade.
brad.malone@lamarcc.edu
719.336.1628
Del Chase - Coordinator of Agricultural Studies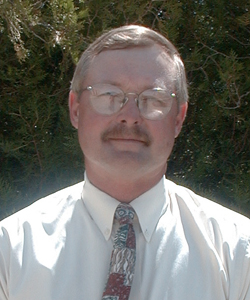 Del Chase, LCC's coordinator of agricultural studies, teaches, advises students, develops curriculum and course delivery models, creates and improves existing articulation agreements with 4-year institutions, coordinates recruiting of ag students, and supervises LCC's ag faculty. His main emphases outside the classroom have been to continue to strengthen LCC's ag programs, in part by developing articulation agreements with four year colleges and universities, and expand continuing education courses to the local ag industry.

Chase's love for agricultural youth fuels his compassion to make LCC's agriculture programs challenging and rewarding. "We have some of the most knowledgeable instructors that truly care about the success of their students. We believe that our ag programs are the 'The Best in the West'," explains Chase.

A resident of McClave for over twenty years, Chase was an ag education instructor as well as FFA advisor for twenty-one years, sharing responsibilities with Don Thorne for the last six. During his tenure, McClave FFA won multiple state and national awards for its innovative and successful endeavors. A Colorado native, Chase was born and raised in Flagler. He graduated from Colorado State University with a Bachelor of Science in Agriculture and a Masters of Agriculture. His wife, Lori, and daughter, Tatum, reside in McClave and are involved in family ranching and farming enterprises.
del.chase@lamarcc.edu
719.336.1629